Special RACK for Ultimate Products & Special RACK for Advanced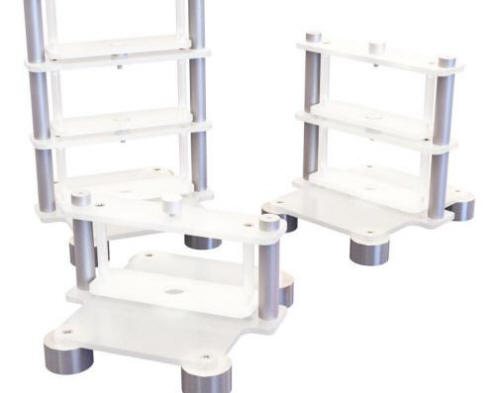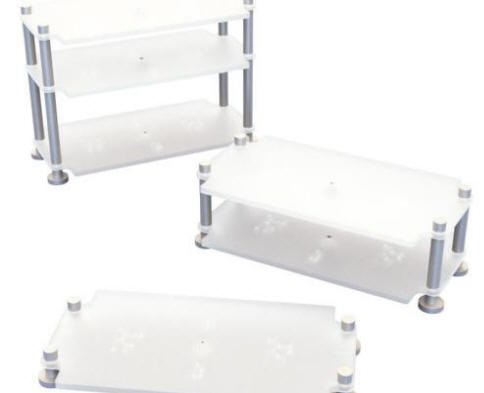 Ci sono un sacco di fattori per avere un effetto sul suono nel vostro sistema audio. Ad esempio, la struttura della vostra camera audio, la posizione degli altoparlanti, scrivanie, sedie e persino il dispositivo audio si influenzano il suono. Se hai già esperienza del cambiamento del suono dopo che è stato rimosso o modificato la posizione di alcuni componenti che non si prendono cura di molto nel consueto nel vostro sistema audio, si capisce facilmente tali componenti comuni sono anche fattori di avere un effetto sulla il suono.Il rack audio è anche uno dei fattori e molti audiofili sarebbe d'accordo con essa in quanto il rack è più vicino a dispositivi audio, in modo che possa prendere direttamente cura della vibrazione e la riflessione del suono e, infine, rende il suono diverso .Il SOTM Rack speciale è stato realizzato in collaborazione con TAKT che è la produzione di accessori completo sistema audio, la loro forza deriva dalla tecnologia anti vibrazioni e anche la passione per la musica . Tutti i prodotti della TAKT sono progettati con calcolo preciso e simulazione sotto ascoltatori di musica più esigenti per assicurarsi che essi non si limitano a eccellere su carta.Il rack per i prodotti di Ultimate di SOTM, la sua dimensione si adatta esattamente con SMS-1000 o SDP-1000 o SPS-1000 e ha 4 piedi ai due lati della piastra inferiore, che detiene l'intero sistema rack come come un ponte. L'intera struttura è semplice e compatta, ma rappresenta la caratteristica elegante e immagine, anche l'elegante colore bianco-argento è grande anche abbinamento con i prodotti finali di SOTM.Il materiale si basa su pannello in acrilico e t ha la forma tecnica speciali sono stati scolpiti sul piatto per controllare la riflessione del suono si è verificato tra cremagliera audio e dispositivi audio, anche un pendolo è installato per eliminare le vibrazioni inutili ei 4 piedini sono appositamente progettati per contro La vibrazione . In quanto i nomi, SOTM Rack speciale non è un rack normale solo tenendo unità audio, è il rack speciale progettato solo per SOTM prodotti. E 'bene per massimizzare le prestazioni audio, nonché di presentare le sue caratteristiche eleganti .Poiché la domanda dell'utente, il rack è disponibile da una pila e potrebbe aggiungere più pile, se necessario. SOTM Rack speciale dimostra semplicemente il cambiamento di suono come come un grande cavo audio non nel vostro sistema audio, che rende il suono in ordine e pulito in modo da poter sentire molto migliorata suono e sentire sfumature musicali naturali, e, infine, si potrebbe raggiungere la performance musicale più vicino che l'audio dispositivi possono fare. Tutte le tecniche speciali di SOTM & TAKT renderlo reale accaduto nel vostro sistema audio Con SOTM Rack speciale, sarà più vicino al suono che vi è stato desiderato.
There are lots of factors to have an effect on sounds in your audio system. For example, the structure of your audio room, the position of speakers, desks, chairs and even the audio device itself affect the sound. If you already have experiences of the sound change after that you removed or changed the position of some components you don't take care of much in usual in your audio system, you will understand easily such common components also are factors to have an effect on the sound. The audio rack is also one of the factors and many audiophiles would agree with it since the rack is the closest to the audio devices, so it can directly take care of the vibration and reflection of sound and eventually makes sound different. The SOtM Special Rack has been made in collaboration with TAKT who is manufacturing of complete audio system accessories, their strength stems from anti vibration technology and also passion for music. All products from TAKT are designed with precise calculation and simulation under discerning music listeners to make sure they do not just excel on paper. The rack for SOtM's Advanced product are based on combined aluminum and white semi-translucent acrylic parts, its size exactly fits with sHP-100 or mBPS-d2s or dX-USB HD or sMS-100. This rack has very special structure that it hangs up the unit not holds the units as other normal racks do, this structure can be available due to the light weight of SOtM's Advanced products, it has many good advantages to take care of the anti-vibrations and this feature is doubled with a pendulum installed at the bottom plate. The rack for SOtM's Ultimate products, its size exactly fits with sMS-1000 or sDP-1000 or sPS-1000 and it has 4 feet at the both sides of bottom plate, they holds up the whole rack system as like a bridge. The whole structure is simple and compact but represents the elegant feature and image, even the classy white-silver color is also great matching with SOtM's ultimate products. The material is based on acrylic panel and the special technical shape have been carved on the plate to control the sound reflection occurred between audio rack and audio devices, also a pendulum is installed to eliminate unnecessary vibrations and the 4 feet are specially designed for anti-vibration. As it names, SOtM Special Rack is not a normal rack just holding audio units, it is the special rack only designed for SOtM products. It is good to maximize the audio performance as well as to present its elegant features.As user's demand, the rack is available from one stack and could add up more stacks as needed. SOtM Special Rack simply proves the sound change as like a great audio cable does in your audio system, it makes the sound tidy&clean so you can hear much improved sound and feel natural musical nuances, and finally you could reach the closest musical performance which your audio devices can make. All special technics by SOtM & TAKT make it real happened in your audio system With SOtM Special Rack, you will be closest to the sound which you have been wished for.
FOTO
---

Audio Video s.a.s. Largo Cesare Campana N°2 (stazione ffss) Mondovì 12084 (CUNEO) ITALIA tel.0174 670100 fax 0174 555700
C.C.I.A.A. 0169854- P.iva 02335060048 info@sotm.it