Network music player sMS-1000SQ WE

sMS-1000SQ WINDOWS Listino ufficiale €. 4.100,00 Promo
STAMPA INTERNAZIONALE *CLICCA PER LEGGERE SOPRA LOGO

L'edizione di Windows di sMS-1000SQ è il nuovo modo di musica server basato su Windows Server OS oltre l'originale sistema operativo Linux basato su sMS-1000SQ. Rispetto ai server di musica basato su Linux la compatibilità diversificata e il sostegno del programma, il funzionamento facile da usare e convenienza tale funzioni sono stati attratti per assicurare la vasta popolarità di OS di Windows basato su server di musica. Abbiamo trovato che il server di Windows Server 2012 R2 basato musica ulteriormente aumentato il livello di qualità del suono. Dopo un lungo periodo di ricerca e sperimentazione, SOtM è orgogliosa di annunciare il primo server Windows OS basato che è semplicemente molto meglio di qualsiasi windows esistente basata su server sul mercato, sMS-1000SQ Windows Edition di SOtM è ineguagliabile e capaci di fornire la migliore qualità audio oggi disponibili. Qui sono i punti chiave, perché è così speciale, sMS-1000SQ Windows Edition In primo luogo, al fine di migliorare fondamentalmente la già grande qualità del suono di un server di musica di base di Windows Server 2012 R2, abbiamo scelto di utilizzare il pluri-premiato AudiophileOptimizer dalla Svizzera basato Highend-AudioPC. Il AudiophileOptimizer sta guadagnando il favore popolare da audiofili di tutto il mondo da più di due anni. Viene installato come primo pezzo di software per garantire la migliore qualità audio possibile, superando anche server di musica basati su Linux. L'ottimizzatore di Audiophile specificamente ottimizza il sistema operativo Windows con un solo obiettivo in mente, per riprodurre la migliore qualità di suoni. In breve, SOtM sMS-1000SQ Windows Edition è purificato Windows OS da audiofilo Optimizer.In secondo luogo, gli utenti possono facilmente ottenere servizio di streaming di alta qualità internet via ROON e sono in grado di costruire la configurazione di sistema audio di rete multi-zona. In terzo luogo, Windows 8.1 OS può essere installato come opzione per quegli utenti che desiderano l'operazione PC comune come navigare in internet, riproduzione video ed ecc. Con questo, può essere indicato il sMS-1000SQ dispositivo di OS di Windows, che è specializzata nell'ottenere il suono di alta qualità, consentendo l'utilizzo di tutte le funzioni su Windows OS basato sulle prestazioni Hardware rispettabile sMS-1000SQ. In quarto luogo, sMs-1000SQ Windows Edition utilizza tX-USBexp come la funzionalità di base e permette l'alimentazione esterna alla porta USB porta audio che presenta la più alta qualità del suono. Inoltre, l'edizione di Windows di sMS-1000SQ permette di utilizzare internet servizi di streaming come marea o Qobuz e comuni programmi di riproduzione di musica come Foobar2000 e JRiver. L'edizione di Windows di sMS-1000SQ offre il miglior suono & technic come l'originale sMS-1000SQ fa, entrambe le serie sMS-1000SQ forniscono il più soddisfatto di qualità del suono non importa che tipo di utenti di sistemi audio può desiderio di costruire, possono godere di fantastiche performance sonora con server sMS-1000SQ SOtM.

The sMS-1000SQ Windows Edition is the new way of music server based on Windows OS besides the original Linux OS based sMS-1000SQ. Compared to Linux based music servers, the diversified compatibility and the program support, the user friendly operation and such convenience functions have been attracted to ensure wide popularity of Windows OS based music servers. After a longer period of research and testing, SOtM proudly announce the first Windows OS based server which is simply so much better than any existing windows based server on the market, SOtM's sMS-1000SQ Windows Edition is unequaled and capable to deliver the best sound quality today. Here are the key points why sMS-1000SQ Windows Edition is so special, First, in order to fundamentally enhance the already great sound quality of a Windows OS based music server, we chose to use the award-winning AudiophileOptimizer from Switzerland based Highend-AudioPC. The AudiophileOptimizer is gaining popular favor from audiophiles around the world since more than two years. It is installed as first piece of software to ensure the best sound quality possible, even outperforming Linux based music servers. The Audiophile Optimizer specifically optimizes the Windows OS with only one goal in mind, to reproduce the highest sounds quality possible. In short, SOtM sMS-1000SQ Windows Edition is purified Windows OS by Audiophile Optimizer. Second, the users can easily obtain high quality internet streaming service via ROON and other playback softwares, and are capable to build the multi-zone network audio system configuration. Third, the sMS-1000SQ Windows Edition can be referred to Windows OS device, which is specialized in obtaining the high quality sound, allowing using of all functions on Windows OS based on the reputable SOtM's Hardware performance. Fourth, sMS-1000SQ Windows Edition uses tX-USBexp as the basic feature and allows external power to the USB audio port presenting the highest sound quality. Plus, the sMS-1000SQ Windows Edition allows using the internet streaming services like TIDAL or Qobuz, and common music playback programs like Foobar2000 and JRiver. The sMS-1000SQ Windows Edition offers the best sound & technic as the original sMS-1000SQ does, both sMS-1000SQ series provide the most satisfied sound quality no matter what kinds of audio systems users may desire to build, they can enjoy fantastic sound performance with SOtM sMS-1000SQ. Simply experience the difference and surprise with sMS-200 developed by SOtM. Key Feature Windows 10Pro with AudiophileOptimizer pre-installed and configured Windows Server 2012 R2 with AudiophileOptimizer pre-installed and configured Only selected high quality audio grade Windows OS hardware Roonserver for multi zone internet streaming audio system Various audio player application support Video playback support Specification OS Windows Server 2012 R2 or Windows 10Pro Available audio playback software Roon TIDAL Qubuz Foobar2000 JRiver PowerDVD Etc. Basic standard Storage 64G SSD Optional data storage max.4TB HDD or max.2TB SSD USB output model Audio grade USB 3.0 port (tX-USBexp) External power input jack USB power on/off switch USB audio class 2.0 support Support format : 32bit/384KHz PCM, DS D Digital output model AES/EBU, Coaxial, Optical output Support format : 24bit/192KHz PCM Analog output model Balanced,Unbalanced output Balanced output voltage : 1.9Vrms Unbalanced output voltage : 0.95 Vrms Support format : 32bit/192KHz PCM THD+N : 0.005% > @ 1KHz Output band width : -3dB@100KHz Power requirement Input Voltage : +19Vdc Power : Max 60 W Operating environment Operating temperature : +10 ~ +30℃ Storage temperature : 0 ~ +40℃ Operating & storage humidity : 10% ~ 90% Dimension 360×68×240(mm) Weight 4Kg

Versione sMS-1000SQ basata su tX-USBexp con sola uscita digitale usb 3.800,00euro



Versione sMS-1000SQ basata su tX-USBexp con uscite digitali : usb , aes/ebu,ottica, e coassiale 4.700,00euro



Versione sMS-1000SQ basata su tX-USBexp con uscita digitale e analogica bilanciata e rca 4.700,00euro

Get a 60days free trial Roon license!
Plus, get a 1 year Roon license at the very special price!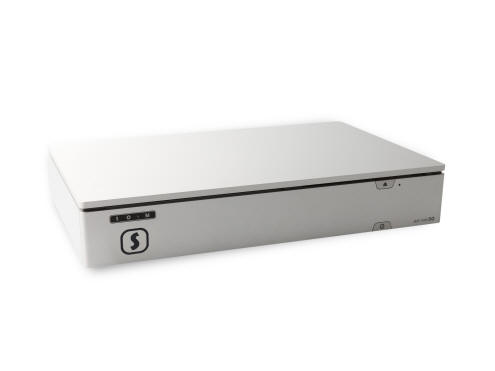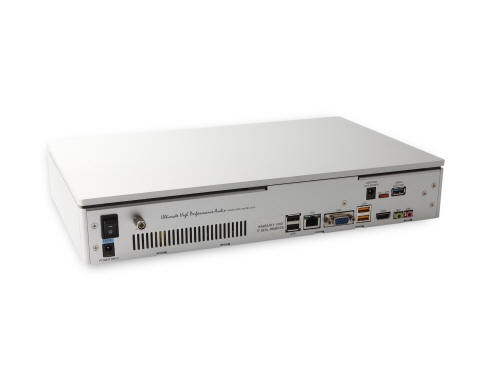 Optional per serie Ultimate sMA1000Q hard disk 250 GB ssd 250,00 euro

Optional per serie Ultimate sMA1000Q hard disk 4 TB 300,00 euro

Optional per serie Ultimate sMA1000Q hard disk 1TB ssd 600,00 euro

Optional per serie Ultimate sMA1000Q hard disk 2TB ssd 1.300,00 euro

Optional per serie Ultimate sMA1000Q Clock ultra low noise jitter clock for usb output 590,00 euro

Optional per serie Ultimate sMA1000Q Clock ultra low noise jitter clock for digital or analog output 590,00 euro

Optional per serie Ultimate sMA1000Q ODD BLURAY Drive 320,00 euro



Tel.0174 670100