Network music player sMS-1000SQ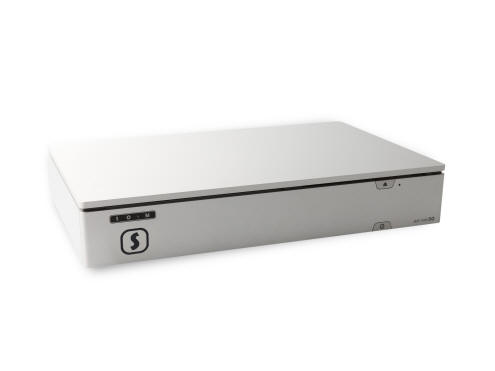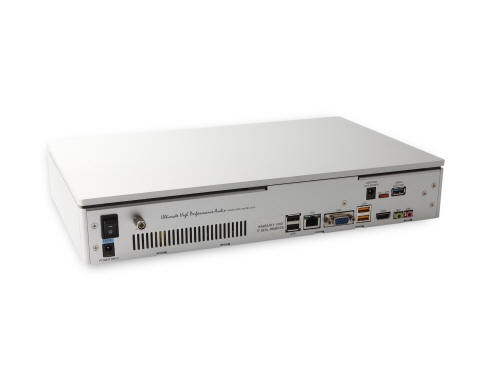 sMS-1000SQ EUNHASU Listino ufficiale €. 3.990,00 Promo
STAMPA INTERNAZIONALE *CLICCA PER LEGGERE SOPRA LOGO


The growth of network audio technology interlocked with the IT technology has been progressing to such a fast speed unparalleled ever before in history comparing with the audio technology development in the past. In order to understand it easier using a metaphor, we can refer the speed of network audio technology development to the speed of rabbit running fast in a race between rabbit and turtle. Yet, we also should not overlook the perseverance of turtle in the race, the fundamentals of audio technology as referred in audio world. The SOtM does already hold the technical power certainly specialized in the area of sound quality, the most important element in meeting the basic requirement of audio system, and has been recognized of its technology excellence worldwide as proven with the diversified products. Taking advantage of such technology foundation established, the SOtM has successfully introduced the sMS-1000SQ sereis product, satisfying all the demand of sound quality, functionalities and technical requirements altogether developed at last within the tightly limited budget of network audio market, which cannot be found in any market in the world. The sMS-1000SQ Eunhasu is to be offered with diversified options allowing the customers freely choose what they want per own favorite sound taste and system. Yet, the sMS-1000Q is capable of providing high sound quality with the basic default specification , also can easily enhance the quality of sound with simple modification such as using a separate external power supply for the USB audio port. As well, the sMS-1000SQ Eunhasu can be upgraded to a different level of sound quality with delicacy, transparency and clearness by adding a separate high performance clock board(sCLK-XXXX)to the USB audio port or digital / analog output functions. The sMS-1000SQ Eunhasu is provided with the default SSD as a standard focusing on the fast OS processing and less noise which effects on sound quality. Further, in order to meet the convenience demand of users, the sMS-1000SQ Eunhasu is coming with the option allowing installation of embedded large capacity SSD and HDD as additional storage device. Moreover, the connection of external USB HDD automatically recognized will greatly enhance the convenience of users. Through the network connection, the music file available in NAS or internal storage devices can be shared using NFS and SMB function or as DLNA server and DLNA renderer with sMS-1000SQ Eunhasu, and at the same time applicable to search and playback easily. As well, the Multi-player System applicable to cope with diverse living environments can be configured by using those devices supporting and compatible with multiple numbers of sMS-1000SQ, Roon and LMS (Logitech Media Server). Plus, the sMS-1000SQ Eunhasu allows enjoying the high quality sound sources easily with convenience utilizing the high resolution streaming service such as Qobuz, TIDAL & etc. in addition to the diverse internet radio listening functions. The sMS-1000SQ Eunhasu is a state-of-art music server as well as player equipped with the best technology capable of building own sound per users' own discretion, convenience and budget. The sMS-1000SQ Eunhasu can offer the extremely satisfying sound quality no matter what sort of systems are to be configured, but we highly recommend using it as a source device for ultra high end audio systems, the users of sMS-1000Q Eunhasu will be able to experience the climax of sound quality produced by sMS-1000SQ Eunhasu. Simply experience the difference and surprise with sMS-200 developed by SOtM.
Key Feature Easy Web GUI Roon Ready Roon Server MinimServer DLNA audio rederer, OpenHome support MPD(Music Player Daemon) LMS(Logitech Media Server) Squeezelite HQPlayer Network Audio Adapter Shairport Multi-zone network playback Specification OS Linux Audio player Roon Ready Roon Server MinimServer DLNA audio renderer, OpenHome support Music Player Daemon(MPD) Logitech Media Server(LMS) Squeezelite HQplayer Network Audio Adapter Shairport Audio feature PCM 32bit/384KHz max, DSDx64, DSDx128, DSDx256 Ultra Low Jitter Clock Ultra Low Noise Regulator Active Noise canceller Standard Storage 64G SSD for OS Optional data storage max.4TB HDD or max.2TB SSD USB output model Audio grade USB 3.0 port (tX-USBexp) External power input jack USB power on/off switch USB audio class 2.0 support Digital output model AES/EBU, Coaxial, Optical output 24bit/192KHz PCM Option for Ultra low jitter clock Analog output model Balanced output voltage : 1.9Vrms Unbalanced output voltage : 0.95 Vrms Supports 32bit/192KHz PCM THD+N : 0.005% > @ 1KHz Output band width : -3dB@100KHz Option for Ultra low jitter clock Power requirement Input Voltage : +19Vdc Power : Max 60W Operating environment Operating temperature : +10 ~ +30℃ Storage temperature : 0 ~ +40℃ Operating & storage humidity : 10% ~ 90% Dimension 360×68×240(mm) Weight 4Kg >

Versione sMS-1000SQ basata su tX-USBexp con sola uscita digitale usb 3.990,00euro Promo



Versione sMS-1000SQ basata su tX-USBexp con uscite digitali : usb , aes/ebu,ottica, e coassiale 4.380,00 euroPromo



Versione sMS-1000SQ basata su tX-USBexp con uscita digitale e analogica bilanciata e rca 4.380,00 euro Promo

Get a 60days free trial Roon license!
Plus, get a 1 year Roon license at the very special price!
Optional per serie Ultimate sMA1000Q hard disk 250 GB ssd 250,00 euro

Optional per serie Ultimate sMA1000Q hard disk 4 TB 300,00 euro

Optional per serie Ultimate sMA1000Q hard disk 1TB ssd 600,00 euro

Optional per serie Ultimate sMA1000Q hard disk 2TB ssd 1.300,00 euro

Optional per serie Ultimate sMA1000Q Clock ultra low noise jitter clock for usb output 590,00 euro

Optional per serie Ultimate sMA1000Q Clock ultra low noise jitter clock for digital or analog output 590,00 euro

Optional per serie Ultimate sMA1000Q ODD BLURAY Drive 320,00 euro


Largo Cesare Campana N°2 (stazione ffss) Mondově 12084
(CUNEO) ITALIA tel.0174 481045 fax 0174 555700
Tel.0174 670100